I'll be honest. My fashion sense varies a lot. And by a lot, I mean loads. But one thing I hate within fashion, is looking boring. There isn't a day when I don't really put thought into what I'm wearing, unless I'm not leaving the house. I have to get up for college way earlier than is humanely possible (6:30AM on Mondays and Wednesdays!) so I get my stuff ready the night before. I just can't stand leaving the house looking boring, or casual, etc. Not to say that I always overdress - because I don't. I just always make sure I'm wearing something interesting, be it a weird blouse under a jumper, or patterned leggings (not fairisle, don't worry!) or creepers.
A lot of my fashion inspiration comes from online. I love Rita Ora and Rihanna's fashion sense, and I see a lot of outfits on tumblr that I'd love to wear as well.
Rita Ora especially is one of my main fashion inspirations. I love the way she always something unique and out there - she stands out from most other celebrities, and generally dresses well in my opinion. I love the oversized top and trainers look - if this had been paired with jeans it would look a lot more casual, but by wearing metallic shoes the interest has been spread to those instead of focusing on the outfit alone. The jewellery as well makes the outfit look more dressy; more played up, but keeps it casual from the tee.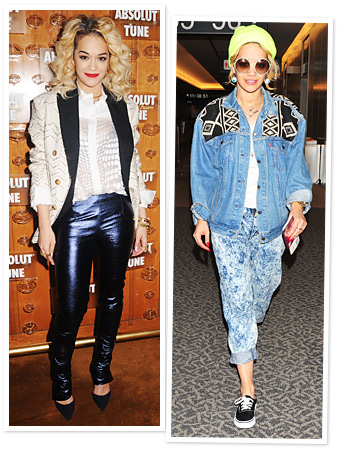 From these pictures, I love the edgy contrast from the leather trousers to the much softer, more vintage aspect of the cardigan. Together the outfit looks grungy and makes a statement. From the picture on the right, I love love LOVE the jacket. I have a similar Levi one and after seeing this picture I'm tempted to sew a similar pattern into mine. The good thing about this outfit is that because the aztec pattern on the jacket is monotone, it can be worn with pretty much anything. Although I'm not usually keen on double denim, because of the bleached effect on the jeans and the black Vans, the outfit as a whole works really well.